Lim-Tec SC screw jack Actuator

The sealed and high protection class allow the actuator work even in harsh environments.
Which is a good solution for Hydraulic and Pneumatic replacement to reduce cost and pollution.

Products
You are here : Home - > Products
Linear Actuator
Screw Jack
Servo Cylinder
Other Products
Lim-Tec SC Series Actuator
High rigidity, impact resistance, long life, small volume
Turn down for more +
Lim-Tec Screw Jack Actuator
Lim-Tec presented a new range of SCB/SCA series Actuator for high load linear motion solutions. Combined the advantages of Linear actuator and Screw Jack to achieve the high load lifting in industry application. The sealed and high protection class allow the actuator work even in harsh environments. Which is a good solution for Hydraulic and Pneumatic replacement to reduce cost and pollution.
Synchronized Lifting, 2-18 pieces Actuator could be driven by one motor for Synchronized lifting with 0.1mm accuracy. Simple operation but reliable. Please contact Lim-Tec engineering for synchronized lifting system design.

Alternative SCB ball screw actuator and SCA acme screw actuator. Load capacity from 2 ton to 20 ton , could be classified as 2 ton, 5 ton , 8 ton , 10 ton , 20 ton unit.
Max. speed and stroke could reach 100mm/s and 2.5m. Duty cycle 50%.
The SC series Actuator can be ordered to accept the motor type of your choice, whether gear motor, or AC motor etc. The SC series offers flexibility in order to accept any type to meet your requirement.


Features of SC series actuator
· Load capacity range from 2ton to 20 ton
· The unique spheroidal graphite iron casting rectangle fluted housing improved the mechanical performance.
· Special design of guided bearing increases the stability and side loading capacity.
· Anti-rotate device. Self-locking , provided equipment security.
· Double seals to prevent abrasive particles and contaminants from entering the actuator critical mechanisms, and assures trouble-free operation even in most severe environments. protection class IP55, Optional IP56
· Precise positioning control , control accuracy reach 0.1mm
· High stiffness to resist shock load.
· Long lifetime, low noise , simple maintenance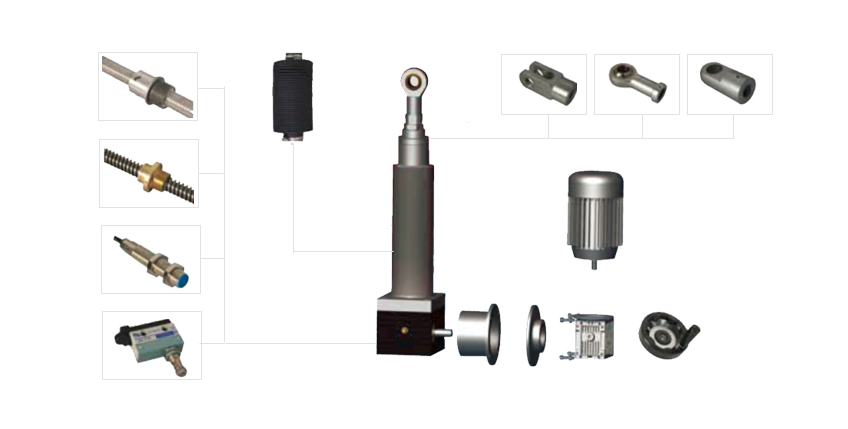 Applications of synchronized lifting
Lim-Tec provided complete system design and components, Which including Screw jack Actuator , motor, gear box, shaft, coupling , brake , clutch etc. Customer just need let us know your requirement of total load capacity, speed, stroke and dimension, Lim-Tec engineering will provide you a design scheme with calculation process and components selection, CAD drawing is also available.


Our technical support is professional, comprehensive and fast
Mature and reliable technology solutions will be your guarantee of safety equipment,
please directly contact with local office sales engineer for concrete proposal!


Lim-Tec Linear Actuator Screw Jack Catalog 2020